It's that time of year again – it's Small Business Saturday!
About Small Business Saturday
The ethos at the heart of the Small Business Saturday campaign, which is sponsored by American Express, is:
to promote small businesses at the heart of the holiday season and to help this invaluable sector of the economy grow and thrive.
Now in its ninth year the purpose of Small Business Saturday is to support and thank the small businesses, which are the backbone of the UK.
We hope you can join us in giving small businesses across the UK a big high five and show your support at one of our shopping centres.
Small Business Saturday at Geraud centres.
Here's a run down of some of our brilliant small businesses that will be taking part on Saturday at centres around the UK.
Kids Cuts at Prescot Shopping Centre: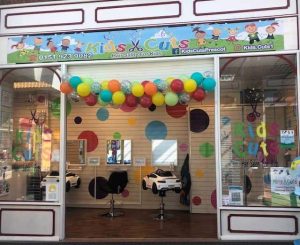 Kids Cuts opened in June 2021 and is the only children's hair salon in Prescot. It provides children with a friendly atmosphere, fun interactive cars, tablets to watch their favourite shows and most importantly, a stress-free environment. With more than 80 five-star reviews on their Facebook page it has proved to be very popular with both children and parents! Owner and stylist Laura chose to open her salon in Prescot Shopping Centre due to its popularity, central location & friendly neighbouring shops.
"I'm a mother of 3 boys so I know how stressful haircuts can be, so I created a space just for kids to have an enjoyable experience!"
Find out more about Prescot Shopping centre
Haste Ye Back Jewellery at Forge Market:
Haste Ye Back Jewellery opened in Forge Market by Graham this year and sells a variety of jewellery including necklaces, bracelets, rings and charms including those to fit Pandora bracelets. With thee easing of restrictions, the Forge Market was the perfect place for Graham to step into a new venture and furth grow his business experience.
"Forge market has great accessibility and a high volume of people, also being an indoor market is a huge bonus! The market provides the opportunity to meet and engage with a wide demographic of customers, further my business and also meet other traders with varied experiences and insights to the world of business."
Find out more about The Forge Market, Glasgow
American Snax at Perry Barr Market: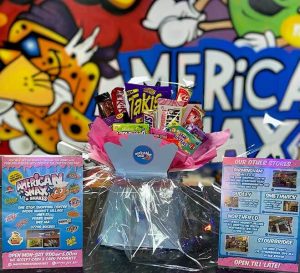 American Snax is a family run chain of 7 (and growing!) Sweet and Dessert Shops throughout Birmingham. Sheraz and his family predominantly sell American sweets, drinks and crisps as well as American Desserts in select shops.
"We've always owned and managed our own organisations so its not something new to us! American Snax was the brainchild of our younger brother who initially started his venture online. We created a brand and wanted to make it easy for customers to experience American Snax. We chose locations such as the Market Village as this is a place where everyone can get something from" – Sheraz – Business Owner.
Find out more about Perry Barr
Four Seasons Caribbean Food at Stratford Market: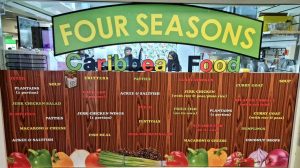 Four Seasons Caribbean Food is a Jamaican takeaway specializing in the very best authentic and blended Jamaican dishes including mouth-watering jerked chicken, curried meals, rice and peas, vegan dishes and a variety of rich tasting home-made juices.  Although quite a diverse borough, Newham has lacked a decent representation of specific ethnic minority business leaders and Devon Campbell, the owner of Four Seasons Caribbean Food wanted to help fill that gap.
"I chose Market Village as it appeared to be timely for me to invest in the borough and the area is in need of more Jamaican businesses and representation. Every young person wants to be represented in businesses and in leadership and there is a growing demand for more black businesses as we are under-represented.  I consider myself part of this change."
Despite opening during the pandemic, Devon is keen to work with the community and has commenced partnership with other businesses within Newham to serve the community in a meaningful and sustainable way.  For the tastiest Jamaican meals and for any outreach programmes, please feel free to contact Devon via Four Seasons Caribbean or on 07960 309446.
Find out more about Stratford Market
Jean and Jen's Scent from Above at Parkhead Market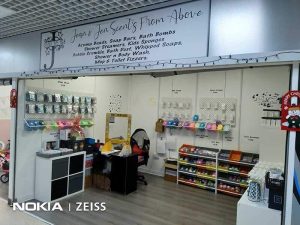 Jean & Jen's Scent from Above opened in April 2021 and sells a wide variety of body products such as Bath bombs, scented soap, exfoliating sponges, shower and body wash also sell products for the home room sprays and fragrances. Operated by Helen Gall, they are one of our newest traders in our Parkhead Market.
"I opened in Parkhead because my sister had a unit CW Scents and Aromas which had a great customer response during the pandemic wanting the products which I stock. Some days are busier than others, but we are hoping to expand next year with new products that will keep our customers coming back and attracting new customers!"
Find out more about Parkhead Market
Ann Ayre at Parkhead Market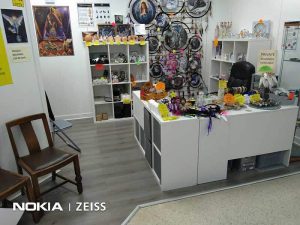 Our resident Psychic Ann Ayre joined Parkhead Market this year and carries out psychic readings and sells new age goods.
"I chose Market Village Parkhead because I liked the atmosphere in the centre and the management of the centre were friendly and very supportive. It has been a slow start for my business, but I see great potential for the future once people know that I am here!"
Find out more about Parkhead Market
DJ Sevi at Sutton Coldfield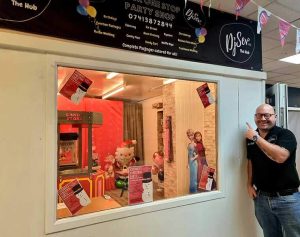 DJ Sevi recently joined us in Sutton Market and is a One Stop Party Shop and Events service. They offer party booking for Birthdays, Weddings, Christenings in complete packages including catering! They can offer room dressing, Candy carts, Balloon Decorations, Function Packages, Candy Floss Stand, Pop Corn, Waffle Pops, Ice Cream and more to help make your event and party as special as it can be.
"We wanted to start a small business to take the next step into being able to provide our complete function & Events packages on a bigger scale to a wider public. I Saw the retail space on Market Place which pecked my interest to taking the above step into getting a unit within a promising area in Sutton Coldfield. Business is going slowly but surely – 'with small acorns grow mighty Oaks'"
Find out more about Sutton Coldfield
#Personalised by LM at Washington: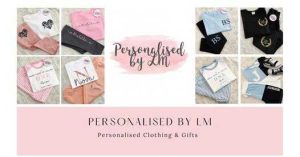 Personalised By LM joined us in Washington Market this year offering personalised clothing, gifts, and vinyls for all ages and all occasions. Limara Millar started the business as a hobby making things for her children and soon built up a large online presence with over 6200 followers!
"I used to shop in the centre and was looking for somewhere to expand. Washington Market gives me the opportunity to have more space to print my products and increase my direct customer interaction. So far there hasn't been a quiet time of year for our products and physical trade has overtaken our online sales!"
Find out more about Washington