Celebrating our local markets!
From Friday 13th May to Sunday 5th June, we are taking part in Love Your Local Market and to celebrate we're speaking with traders from across the UK. We caught up with Ricki Guy who trades as Rewind Vintage Toys to find out more about his businesses and his success in Sutton Market.
Name of the Business: Rewind Vintage Toys

Name of the Trader: Ricki Guy

What do you sell/serve?
We Deal in vintage TV film related retro toys/ collectables/memorabilia. We also buy old toys so if anyone has a collection or one off we can offer a good price.
How long have you been trading for? 
I was in Wolverhampton Indoor Market 2011 to 2014 then I was in King Street Toy Shop Wolverhampton2014 to 2018. I then moved to Sutton Indoor Market in November 2021.
Why did you start trading independently?
I love being my own boss, every day is different. I saw there was a niche for what I love to collect on a personal level, and thought why not make it into a Business?
Where are you located?
You can find us in Unit 32, next to the café in the middle isle.
.
What's your favourite thing about trading in the markets?
I love being part of the local community and offering a unique stall. Also its great helping people finding toys they collect.
Why did you choose to join our market?
Location was key as I live locally and the retail unit was near the model railway/ café. The rent is also reasonable for the space where I can showcase my stock.
Why would you recommend a new trader to come and join us at the market?
I would recommend a new trader as it's a nice market for starting up a new business. It's always very clean and tidy and very welcoming. (Also the rents are inclusive of rates and bills).
What advice would you give to a new trader starting at the market or thinking about joining us at the market?
My main advice would be to research your target audience to see if what you're offering is/isn't already available.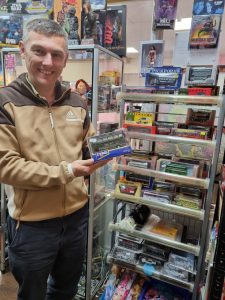 What is your current best seller(s) and why?
Our best sellers are Corgi Diecast Models and vintage 1980's toys. These have become very collectable, and more people now want the toys they grown up with.
What sets your product or service apart? Why should people come to you?
We always offer a friendly service and discounts to regular customers. Our stock always changes so it's exciting to see what comes in each week.
How can people find you outside of the market?
Visit our website or Facebook or call us on 07969 050421.
Become a trader with us!
We love telling our traders' stories and celebrating their successes. You can find other stories on some of our other fantastic traders across the UK here. If you would like more information on our markets or would like to be a trader like Ricki, get in touch with us on trader@groupegeraud.co.uk.