Celebrating our local markets!
From Friday 13th May to Sunday 5th June, we are taking part in Love Your Local Market and to celebrate we're speaking with traders from across the UK. Today we're speaking with Yusef from First 4 Phones to learn more about his business and his success in Parkhead Market.
Name of the Business: First 4 Phones
Name of the Trader: Yusef
What do you sell/serve?
All mobile phone cases and accessories, speakers, headphones, new and used handsets, tablets and laptops.  We also offer a full repair service to all mobile and computer devices.
How Long have you been trading for? 
We've been in the centre now well over 15 years, we started originally in a different unit, traded through the refit and then moved to our current location when we reopened after the first lockdown in July 2020.
Why did you start trading independently? 
To give me the freedom to operate the business the way I wanted it to be run.  Phone repairs is a competitive business and you need to be good at what you do to make it work so I was keen to have my own business where it was my own reputation that made it a success.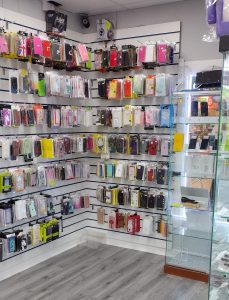 Where are you located?
We trade from units 42&44 in the Parkhead Centre which is a front unit directly facing the main mall.
Whats your favourite thing about trading in the markets? 
The opportunity to run my own business the way I want to and the ability to trade off other businesses and have new customers walk past the shop every day.
Why did you choose to join our market?
At the time there wasn't a lot of mobile phone shops in the area and it was a perfect location, easy to get to and situated inside a busy shopping centre.
Why would you recommend a new trader to come and join us at the market?
It's a great place to start out as there are existing customers from the day you open, the weekly rent is also good as it keeps your outlay more manageable than monthly payments and means you have better cashflow to buy stock.
What advice would you give to a new trader starting at the market or thinking about joining us at the market?
Make sure to look around the local area and know who your competition would be, it's much tougher now than it used to be because so many more shops are offering a similar service than there used to be, if you are able to offer something different then it's easier to attract the customers.  Look after your customers too, attracting new business is getting harder but great service and affordable prices means you current customers keep coming back.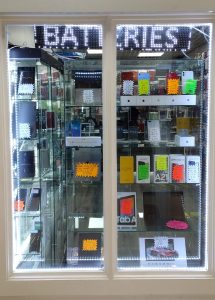 What is your current best seller(s) and why?
Repairs are the main part of our business especially screen replacement as modern phones often get damaged.
What sets your product or service apart? Why should people come to you?
We try to keep our pricing as competitive as possible as well as a quick service and great customer service.  We might not always manage to be the cheapest but we can guarantee we'll be the most welcoming to you.
How can people find you beyond the markets?
Facebook & Instagram 
Shop Contact:
0141 554 1280
Become a trader with us!
We love telling our traders' stories and celebrating their successes. You can find other stories on some of our other fantastic traders across the UK here. If you would like more information on our markets or would like to be a trader like Yusef, get in touch with us on trader@groupegeraud.co.uk.