Celebrating our local markets!
From Friday 13th May to Sunday 5th June, we are taking part in Love Your Local Market and to celebrate we're speaking with traders from across the UK. We caught up with Stephen Taylor who trades as Out In Front Music and DVD to find out more about his businesses and his success in Forge Market.
Name of the Business: Out In Front Music And DVD
Name of the Trader: Stephen Taylor
What do you sell/serve?
We record footage from old family videos and camcorder tapes and transfer these onto DVDs and USB. We also have an ordering in service for DVDs, CDs and Books and sell DVDs and CDs.
How long have you been trading for? 
We've been in business for 11 years, in 2011 I decided to open up a market unit in Partick selling DVDs and CDs.
Why did you start trading independently?
I had previously worked in the NHS for 15 years, but I always had in mind that I'd like to run my own business at some point but I wasn't sure what kind of business.
I have a keen interest in music and film and was always in and out of records shops every week as a teenager buying LP records, videos and cassette tapes. This gave me the idea of opening my own record shop!
Where are you located?
Enter the forge markets main entrance go right and we are 4 shop units along on the right.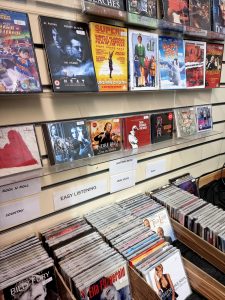 What's your favourite thing about trading in the markets?
The fellow traders and our customers and all the forge markets staff.
Why did you choose to join our market?
The forge market is the biggest and best market in Scotland, it gets a lot of footfall every weekend.
Why would you recommend a new trader to come and join us at the market?
If you have a good idea for a unique niche retail business come on in and give it a go.
What advice would you give to a new trader starting at the market or thinking about joining us at the market?
Don't spend big on a lot of stock or furnishings for the unit too quickly. Just give it a try for a month or 2 and see how you get on first.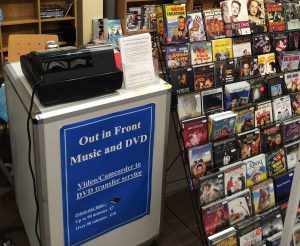 What is your current best seller(s) and why?
Our main line of business now is video to DVD transfers, we are very busy with this. We record a lot of treasured memories such as weddings and family holidays onto DVDs and USBs.
What sets your product or service apart? Why should people come to you?
We have excellent reviews online and we get a lot of repeat customers some customers have been buying from us for over 10 years. Check out our reviews on Yell.com, google and Facebook.
Become a trader with us!
We love telling our traders' stories and celebrating their successes. You can find other stories on some of our other fantastic traders across the UK here. If you would like more information on our markets or would like to be a trader like Stephen, get in touch with us on trader@groupegeraud.co.uk.