We are Scotland's largest purpose-built indoor market and are located on the east side of Glasgow, just 10 minutes from the city centre. Our 85,000 sq ft facility is seen as a Glaswegian institution that attracts customers and traders from far and wide.
Our family friendly Market is centrally heated, and all the stalls have mains electricity supply and secure shutter blinds. All traders have access into their stalls seven days a week with The Market being open on Thursday, Friday, Saturday and Sunday between 10.00 am – 5.00 pm to the general public.
The Forge Market sells a wide range of goods, services only found in our market and contains 180 individual units of varying sizes occupied by over 110 individual traders. Within the market we also have a two-level Benson's café which can seat up to 200, a coffee shop, seafood bar, Chinese restaurant/takeaway plus an Amusement Arcade. For the kids we have trampolines and bumper cars. There are modern public toilets with disabled facilities and a baby changing room. If you are feeling lucky you should visit our Lotto kiosk which is based beside our cash machine. In 2012 The Forge Market became the first indoor market in Britain to implement Free Wi-Fi for all traders and public alike. Our traders also accept card payments with many offering a delivery services also.
Externally we have 5 standalone industrial units that are currently occupied by WeePlay Soft Play and Jem's Carpets. We boast a huge free dedicated car park with spaces for over 450 vehicles plus 30 disabled parking spaces. So what are you waiting for!! Don't be left out in the cold while shopping for bargains, come and have a day out at the market.
Food & Drink
A+A Bakers at Bianco E Nero
Andy's Market Butchers
Bensons
City Deli
Dragon Amber Ltd t/a Wok This Way
Forge News
Little Benny's
Molly Malone's
MLR Leisure Ltd
Subzi Spice
Shopping
A&K Builders & Joiners
A&C Fireplaces/Premier Fires
Appliance Markets @ MCD
Art By Hunter
Balloons 4 U
Bedstore
Better Choice Flooring
Blind Options
Bling Boutique & Beauty
Booktree
Bo-Peeps
Chertext Ltd
Clearwater 2
Corbie Blinds Ltd
D&L Promotions
Dersim Computing & Mobiles
Dust In Time Waxery
Eastend Bed Company
Ego Trading Ltd
Fleur D'Jour
Fone Master
Forge Babywear
Forge Handbags & Luggage Ltd
Forge Homecare
Forge Market Baggage
Forge News
Forge Style
Gallery Prints Ltd
Glam Hair at The Forge Market
Glitter Direct
Ian's Tools
K A Javid & Co
KONAKDJ LTD
Keepsakes
Kokub Collection
Lighting House
Little Jack
Mother Nature
M&M Flooring
Mere Bebe
Mini Legends
Mobility Living
Out In Front Music & DVD
PMG Group
Pop N Tee
Premier Cards and Gifts
Premier E Cig
Quality Surrounds
RKA Direct Ltd
SBF Glasgow Ltd
Scottish Rewards
SS International Furniture Ltd
Stirling Promotions
Style Boutique 99
Terra Lumen Lighting
Textiles at Home
TCH Photography & Printing/Hot Off The Press
The Bedstore
Tracey Gray's Boutique
Rebel Yell Tattoo
Universal Interiors
VR Pet City Ltd
Watch n Go
Zoya Clothing
Services
A&K Builders & Joiners
Amusement Arcade
Blink Beauty
Better Choice Flooring
CWM Home Improvements Ltd
Dillon's Repair Shop
D&L Wonderwalls & Bathrooms
Halo Hair Beauty
Forge Market Shaving & Barbers
MLR Leisure Ltd
Quicksew
The Spectacle Maker Ltd
Un!que Hair & Beauty
Watch n Go
The Forge, Glasgow
1201 Duke St
Glasgow G31 5NZ
Thurs – Sun: 10am – 5.00pm
The Forge, Glasgow
1201 Duke St
Glasgow G31 5NZ
Thurs-Sun: 10am-5.00pm (Usually)
We believe a market is more than just a place to shop – it's about community and a place to meet friends, chat and reconnect. A place to experience new things together and to have fun. A place where you can find events that celebrate who we are as a nation and what we do.
[DP_Grid_View_Event dem_post_per_page="3" dem_event_view_style="style3" dem_show_pagination="off" dem_show_featured_image="on" dem_show_upcoming_events="on" dem_show_past_events="off"]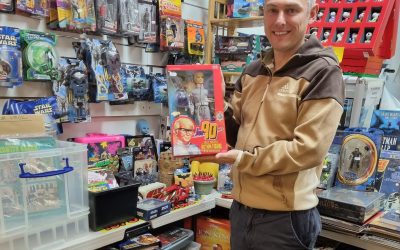 Celebrating our local markets! From Friday 13th May to Sunday 5th June, we are taking part in Love Your Local Market and to celebrate we're speaking with traders from across the UK. We caught up with Ricki Guy who trades as Rewind Vintage Toys to find out more about...
read more
If all this sounds exciting and you want our future to be part of your future, complete the details below and we'll be in touch shortly!