It's time to show love for your local market
We're excited to see the return of NABMA's Love Your Local Market, which is running between Saturday 16th October and Saturday 30th October 2021. This is the ninth year of the Love Your Local Market campaign. It is designed to celebrate everything that is markets; with lots of exciting events taking place across the whole country – there's plenty to get involved with! The campaign highlights how important markets are to local towns and communities. In addition, the campaign is designed to drive interest and awareness of the opportunities that are available to businesses to try market trading. So if you're interested in becoming a market trader with us, just drop us a line for more information – trader@groupegeraud.co.uk. At Market Village we're proud to support Love Your Local Market, and as you can see, we have lots of events and activities planned across our markets!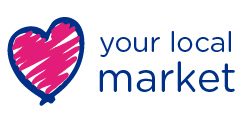 14th – 17th October: Dino event – children can pick up a map and try and spot the 7 dinosaurs hidden around the market. A prize is available if they can complete the map!
16th October: Scottish Author John Reid Book (12pm – 3pm)
23rd October: Sophie Ramsey performing
28th October: We have the Nurses in from the Cancer Roadshow offering advice and guidance etc
30th October: Scottish Author Carla Malone – book signing  Nigel The Naughty Broomstick (12pm – 3pm)
31st October: Scottish Author Rod Mason – book signing Operation Clinker (12pm – 3pm)
28th – 31st October: Best dressed Trader competition for best dressed unit and fancy dress
Parkhead Market
25th October: Week commencing 25th October Spooky treasure hunt to run for 5 days with a different letter to be hidden in a different unit on each of the 5 days, entry forms can be picked in centre and entries posted in centre box, draw takes place on 30th October with £50 voucher to the winner
Washington Market
16th October: Free face painting from 11am – 1pm
16th October and 23rd October: Children's colouring competition
From 16th October: Hunt the Meerkat game – find the meerkat hidden around the market for a prize
Onsite and social media competitions for prizes throughout LYLM fortnight
Free balloons, badges and sweets to be handed out to customers throughout the LYLM fortnight
Riddle competition posted throughout the centre over the LYLM fortnight, take part to win prizes
Cwmbran Market
October 23rd: Cwmbran Market will be incorporating Halloween into the LYLM fortnight, and will be giving out free trick or treat bags to all the kids and offering free face painting. Market Village staff will be wearing Halloween costumes, as will some of the traders – to get you into the Halloween spirit!
How will you take part?
Whether you're showing your local market some love or using this opportunity to try market trading, we want to see your events, initiatives, successes and images! Share these with us on Instagram, and make sure you follow and share with the Love Your Local Market accounts too! You can find them here on Facebook, Twitter and Instagram. Don't forget to use the hashtag #LYLM2021!