It's very unlikely we're going to see a return to pre-pandemic normality this year, but that doesn't have to spell disaster for people who love a bit of fake blood and ghostly white face paint. Geraud is here to save your Halloween! You might not be able to go to any parties but you can still get dressed up, eat plenty of sweets, and give yourself a serious fright with our top tips for a socially distanced Halloween!
Have a horror film festival at home
You can scare yourself to death pretty easily without leaving your home. Choose your films, draw up a schedule, and then choose your haunting snacks. You can go all out with costumes and themed nibbles, or just turn off all the lights and give yourself a sleepless night. Your scary film night can be family friendly too. Just swap the chainsaw massacres for some PG-appropriate scares!
Check out Netflix's guide to great Halloween viewing for the whole family!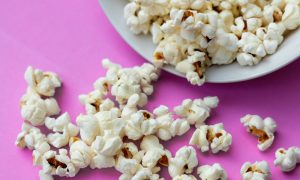 Trick or Treat 2020 style – for a socially distanced Halloween
Going from house to house in a group is definitely not advisable at the moment. Instead, a viral social media post has given us a better idea that will make sure your kids still get their fill of Haribo.
Participating houses in your area can put real or artistic pumpkins in their window and trick or treaters can 'collect' them. Every time a pumpkin is spotted, supervising parents give them a sweet for their collection. It's a bit of a break from tradition but as long as there are plenty of treats we don't think anyone will mind.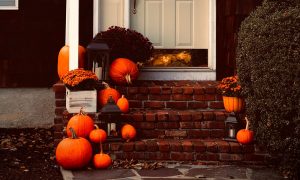 Have a social media costume competition
Halloween is all about the dressing up. You can't go out and show off your intricately drawn eyeliner cobweb but you can show everyone on social media. Organise a little competition with your friends, family, friends' kids, colleagues, whoever!
You could set challenges like finding things around your house to turn into a costume, best double act, or ugliest makeup. The more competitive your group the harder the judging will be…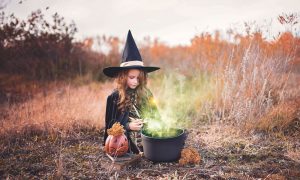 Customise your face masks
Your face mask is now a major part of your wardrobe. If you're going to be spending most of spooky season at work or masked up for another reason, it's time to get creative.
Take your existing masks, or make a new one, and customise it with something seriously scary. You could do a skull design, dripping fake blood, a Frankenstein's monster style grimace, or a warty witch face. If you want to keep your masks pristine, some haunting eye makeup will help you get into the spirit and stay safe.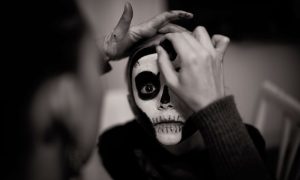 Come and celebrate Halloween at these Geraud markets:
Our traders are selling spooky treats and hosting scary events up and down the country.
The Centre will be decorated, and staff will be handing out sweets on the 31st
Get Ur Sweet On will be offering Halloween Sweet boxes
Balloons 4 U will be offering Halloween balloon sets and deliveries
Parkhead
Our very own Geoff, the owner of Jens Habby & Fancy Dress, will be open each day on the run up to Halloween. With a treasure trove of costumes, accessories and more haberdashery supplies than you could shake your knitting needles at, there will be something for everyone! For over 30 years Jens Habby has been getting Glasgow ready for one of our favourite nights of the year and the team aren't letting anyone down just yet!
Our florist will be selling handmade gift and sweet boxes – full of treats and no tricks!
Thistle Love Collection will be offering bespoke Halloween decorations and gifts!
Scents and Sensibility have a wide range of candles, melts, and everything you need to fill your home with that winter spice!
Balloons 4 U have an incredible selection of banners, balloons and invitations if you're planning any events
And of course, safety is priority so visit Personal Pressies for your personalised face masks (can't have it clashing with that costume!).
This year we are also bringing you our Halloween Trader Fair from 29.10.20 to 31.10.20, 09:00 to 17:00 each day.
We will have a range of new traders and crafters throughout the days so there will be something for everyone! There are still places available so please contact parkhead@groupegeraud.co.uk to reserve your space now!
Washington
Spend and Save is selling Halloween sweets and cakes.
Sheree's Nails will be doing Halloween gel nails.
Hippydrome sell a selection of gothic tee shirts and skull ornaments. The Computer clinic sell a range of vape juices called Vampire's blood and Ice Ice Baby Milkshake bar has Halloween candy cones.
Favourites sell crazy hair colours and Halloween contact lenses.
Lebanos and Flavas Café will be serving Halloween inspired food in the week leading up to Halloween as it is half term.
We are holding a Makers Market on Saturday 31st October with Guest traders selling gifts. We also have a Design a Pumpkin Competition and a ghost hunt in the centre. The centre has been decorated and on Halloween we will be playing Halloween music and the staff will be dressed up! We will be encouraging our customers to bring the kids in with Halloween costumes on and we will be giving prizes to the best costumes.
Prescot
We are setting up a post box for Halloween pictures to be posted, best picture wins a festive hamper! On Halloween we will be popping all the pictures around the centre for the kids to do a picture hunt.

Willowbrook will be selling halloween clothing and accessories 
Home bargains will be selling halloween partywear, clothing and accessories 
Card Factory, Post Office, Serenity Living, Timeless Treasures are all selling Halloween accessories too
Northfield
Gem unique will be selling handmade to order greeting cards
Midland Munchies B'ham will be selling Halloween sweets as well as trick/treat goodie bags
Cwmbran
A photographer will be coming into the centre 30th & 31st October for a dog costume competition. The public are encouraged to bring their four-legged friends in their best costume to get their photos taken on Halloween backdrops. Prizes for best dressed!
Mai Thai will be selling Halloween Costumes