Are you looking to start an independent business in Glasgow?
The Forge Market is Scotland's biggest market at over 85,000 square foot in size, and conveniently located just 10 minutes from Glasgow city centre! Our high footfall makes it the perfect place for you to start an independent business in Glasgow! We have over 110 individual traders selling a wide range of goods and services. The market also has a range of entertainment for children, including sit on rides, trampolines, a sandpit and bouncy castles. Our family friendly market benefits from being centrally heated and the stalls have mains electricity supply and secure shutter blinds. All traders have access into their stalls seven days a week, with the market being open from Thursday to Sunday between 10.00 am – 5.00 pm to the general public. We recently celebrated 25 years since The Forge opened its doors, you can read more about this here!
What sets us apart from the rest!
High Footfall
Free Parking
Free WIFI
Close to the City Centre
Strong transport links
All inclusive, low rental prices
Strong events calendar including Pop Up Markets, Special Events and Weekend Events
Temporary and permanent spaces available
Spaces start as small as 64 square foot
4 days trading (Thurs – Sun)
Trader only access Mon – Wed
"Our facility welcomes and provides a buoyant platform for businesses of all shapes and sizes. You become part of a real Glasgow institution and tourist attraction that continues to evolve and lead the way in all things markets and events."
Boost your independent business!
With over 20 years in the retail industry, we know a thing or two about looking after markets and their communities! We're committed to our traders, so they can be committed to their customers. We make trading smarter and easier for independent businesses, giving them the tools to excel in what they do.
"We believe that community and small business is the heart of commerce. Above all, we work in coherence with all of our traders and partners to ensure a vibrant and successful market for all is achieved. The future of our market looks bright and we are excited to share that continued success with our traders, staff and customers. We are always excited to speak with and invite businesses for a market tour, who may be considering The Forge Market as a trading space to either start up, boost their existing business or even downsize."
– Andy Donaldson, Manager of The Forge Market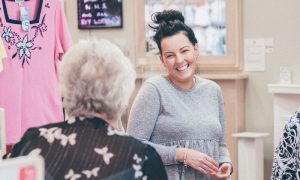 Become a trader at The Forge!
We've got great plans for 2021! If you're looking for a unit to expand your business, we have the perfect space for you! For more information, get in touch with us today on trader@groupegeraud.co.uk or email our market directly at forgemarket@groupegeraud.co.uk! Keep up to date with The Forge on Instagram and Facebook!