With so many wonderful traders in our markets throughout the UK, we were spoilt for choice when looking for traders to feature as part of our Love Your Local Market celebrations! This week, we caught up with Susan Bonnar from Wok This Way. Susan has been trading with us for over 15 years in the Forge Market! Wok This Way is a small team made up of Susan, Claire, Carol, Leigh, Pauline, Chrissy, Stephen, Tommy and Shaun. Together, they serve an extensive menu of both traditional Chinese and European. Customers can enjoy food inside their 40 seat capacity restaurant, or if they would prefer to eat elsewhere – takeaway and Uber Eats are available.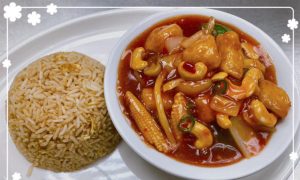 Where it all began
Both of Susan's parents ran restaurants as she grew up. She started her own career working in the finance industry, but decided to change course and follow in her family footsteps. Susan opened her own restaurant with the intention of branching out in various locations. She was particularly interested in the City of Glasgow, and thus Wok This Way was born!
What's on offer
The three best sellers at Wok This Way are salt & pepper chicken, curries, and munchie boxes. Susan also promotes various other foods and offers throughout the year. She is currently advertising a delicious set menu where customers can choose from a list of starters, mains and desserts and can turn it into a 2 or 3 course meal for a set price with drinks included.
"This is particularly popular during our lunch times and late afternoons, it's great value for money and the perfect solution to meet up with friends or family and make a day of it here at The Forge Market."
What sets them apart from the rest
Wok This Way provide a quality food service from start to finish to all their customers. Their highly trained staff are committed, friendly and make the dining experience one of the best in Glasgow! The majority of their delicious food is cooked from scratch in the open showcase kitchen. This gives customers a fantastic experience of seeing their food item getting prepared whilst they wait.
Trading at The Forge
Having been part of The Forge Market for 15 years, Susan has seen it grow from strength to strength. As a result of this, she has seen first-hand the benefits of being a trader here.
"It's the independence and satisfaction you get in being your own boss and running your own company alongside the other small businesses in the market. As we're only open to the public Thursday to Sunday 10.00 – 5.00pm, this allows us plenty of opportunities to source fresh and new produce to create new foods. We like to get involved in any events and fundraisers with local charities. We love being part of a well established market in the heart of the community. I'm fortunate to have a good group of employees and family support that contribute to success of Wok This Way."
Where to find Wok This Way
Wok This Way are positioned centrally in the Forge Market. They are easily accessible from both the front and rear main entrance – and the car park Entrance. Customers can find them located against the perimeter walls in Units C8-10 (Bazaar St and D16+17 Carnaby St). For the latest updates, you can follow Wok This Way's journey on Facebook.
Become a Trader
Could you become The Forge's next trader? If so, get in touch with us at trader@groupegeraud.co.uk! You can find out more information about the two week Love Your Market celebration here. You can also take a look at how all of our markets are taking part here.