Natasha Lomas returns to PromArt as The Pink Flamingo Designs, sharing her handmade clothing with the public this Sunday 30th May and Sunday 25th July.
Natasha's Story
Natasha specialises in sewing and handmade clothing, creating bright and vibrant pieces for adults and children. After graduating from Manchester Metropolitan University, Natasha started Pink Flamingo Designs and opened her Etsy shop in 2015 to sell her products and then later her website. Though she had never intended to start a business initially, it has been a wonderful way to put her skills to good use and as a result she hasn't looked back since!
Natasha also teaches sewing classes and has started a mini haberdashery on her website where customers can find all kinds of sewing equipment, fabrics, and trims.
You can see more of The Pink Flamingo Designs at PromArt this Sunday and follow them on Instagram and Facebook.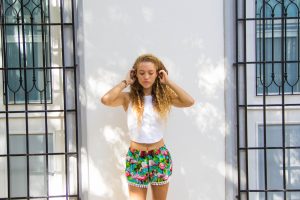 Her Inspiration
Natasha uses mainly cotton for her clothing with additional trims such as lace, tassels and pompoms to help make her items stand out. Natasha often draws from summer themes for her inspiration, using bright colours and novelty prints to bring cheerful reminders of holidays, beaches and festivals.
"I like to make people smile with my clothing."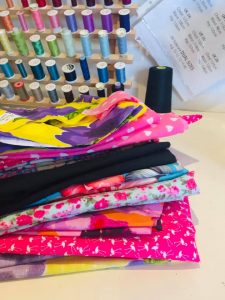 Why Prom Art?
"I love getting out and seeing what everyone is up to. Because I sell online and work from home, sometimes it gets a bit lonely so it is nice to get out and interact with other makers and to have the opportunity to chat to customers! Most of my ideas for new makes come from doing things like Prom Art. It's good to chat to customers about what they would like to see me make in the future. I also enjoy getting out there and setting up a stall with all my makes on. That way I can see my work come together."

PromArt is returning!
The market is situated along the Victorian Promenade in Grange-Over-Sands, Cumbria. We have up to 80 stalls of talented artists showcasing their handmade artwork and crafts. You can join us and see our talented artists' work in person on the last Sunday of every month from May until September, between 10am and 4pm. We look forward to seeing you there!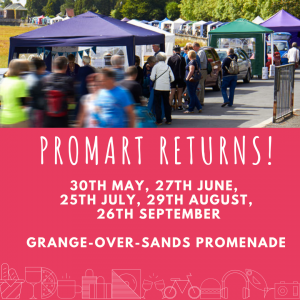 Become a trader at PromArt Market
PromArt provides artists from the lake district and surrounding area a fantastic platform to promote their work to art lovers at an established event and at a reasonable cost. If you're looking for somewhere to exhibit your artwork, we have the perfect space for you! For more information or to request an application pack please contact us on 0151 363 5411 or at promart@groupegeraud.co.uk.
Keep up to date with the latest news from PromArt on Instagram and Facebook! You can also find updates on their website.