Margaret Shaw takes time out from creating her beautiful lakes inspired art to tells us why Prom Art Market, Cumbria is a great place to exhibit and sell art.
Margaret's Story
Margaret Shaw is an artist and photographer based in Cumbria. She joined Prom Art Market to exhibit and sell her art in 2014. Margaret paints and draws using a variety of media, depending on the subject and effects that she wants to achieve.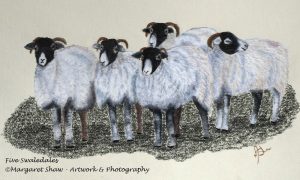 Taking the leap
Margaret took the leap in pursuing art in her forties. She took a watercolour class on holiday and realised that she had a real love and passion for painting. She enjoys learning and experimenting with new media and different techniques. Her move to Cumbria in 2013 was a catalyst for her photography. She took photos to paint from but quickly discovered the beauty of the area and her photos started to get noticed. As her photography skills have improved, her artistic skills have continued to develop – which in turn has enabled her to produce better photos and paintings. You can see some more of Margaret's photography and artwork on her website.
"There's something special about getting a subject in mind then deciding what is going to work best for that subject: Watercolour, ink, pastel, acrylic, pen, pencil or a combination to get the best out of each media. Finally taking that blank piece of paper or canvas and producing a unique piece of art."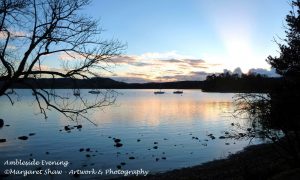 Why Prom Art?
"I enjoy exhibiting my artwork and photography, meeting and chatting with anyone who has an interest in these topics. I joined Prom Art in 2014 – it was my first time exhibiting on my own away from the safety of an art group. It gave me confidence and I now exhibit in several places and at other Art Fairs. I still enjoy the atmosphere of Prom Art and think of my gazebo as my own pop-up gallery."

Prom Art is returning!
The market is situated along the Victorian Promenade in Grange-Over-Sands, Cumbria. We have up to 80 stalls of talented artists showcasing their handmade artwork and crafts. You can join us and see Margaret's work in person on the last Sunday of every month from May until September, between 10am and 4pm. We look forward to seeing you there!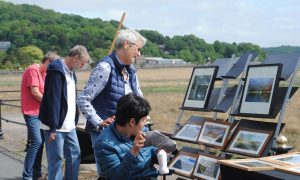 Become a trader at Prom Art Market
Prom Art provides artists from the lake district and surrounding area a fantastic platform to promote their work to art lovers at an established event and at a reasonable cost. If you're looking for somewhere to exhibit your artwork, we have the perfect space for you! For more information or to request an application pack please contact us on 0151 363 5411 or at promart@groupegeraud.co.uk.
Keep up to date with the latest news from Prom Art on Instagram and Facebook! You can also find updates on their website.