We spoke with Jo Lord who is exibiting as Crow and Apricot this year at PromArt.
Jo's Story
Jo grew up in London, attending art school before moving up to the Lake District where she draws inspriation for her wodnerful artwork. She makes mixed media art, creating artwork through collages, drawing and painting, focusing on portraiture, illustration, weaving and curating. When talking about her artwork, Jo describes it as whimsical and fun yet bold and graphic, and we would have to agree! Looking through Jo's website is a joy, her artwork seems to come to life on the page! Birds are a running theme throughout, appearing in paper collages and softer watercolour pieces. When she is not making art, Jo loves to spend her time with her family and playing music.
You can see more of The Crow and Apricot at PromArt in June and July and also online on her website, Instagram and Facebook.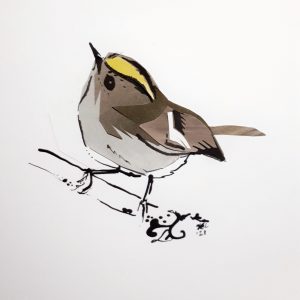 Her Inspiration
Jo draws her inspiration from Nature, using what she sees in the world around her to create her amazing artwork. It's not only the subjects that have a natural feel in her artwork, but the process of how she creates it is full of natural elements and materials where possible. For example, Ink is often applied using a feather or the wrong end of a paintbrush.
"I don't always know exactly how a picture will turn out until it's done!"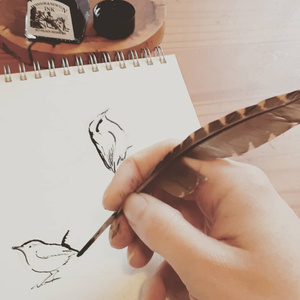 Why PromArt?
Jo attended PromArt in May and is excited to be returning again with her daughter for the June and July PromArt events.
"I'm so looking forward to doing Prom Art again, and my 6yr old daughter is really excited to be my little helper on the stall."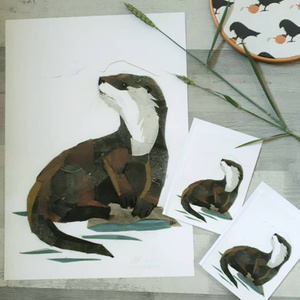 PromArt has Returned!
The market is situated along the Victorian Promenade in Grange-Over-Sands, Cumbria. We have up to 80 stalls of talented artists showcasing their handmade artwork and crafts. You can join us and see our talented artists' work in person on the last Sunday of every month from May until September, between 10am and 4pm. We look forward to seeing you there! To read more about PromArt, visit our latest article on its return and on what you can expect to find.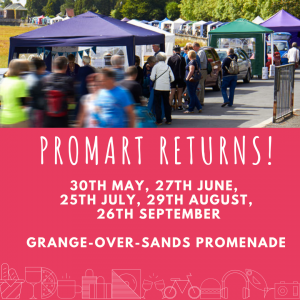 Become a trader at PromArt

Prom Art provides artists from the lake district and surrounding area a fantastic platform to promote their work to art lovers at an established event and at a reasonable cost. If you're looking for somewhere to exhibit your artwork, we have the perfect space for you! For more information or to request an application pack please contact us on 0151 363 5411 or at promart@groupegeraud.co.uk.
Keep up to date with the latest news from Prom Art on Instagram and Facebook! You can also find updates on their website.