We chatted with one of our newest exhibitors at PromArt, Chris Pearson aka Splosh Paintings! PromArt is his first ever venture in selling his art and he is loving it so far.
Chris's Story
Chris is an artist living in South Cumbria who specialises in paintings he describes as action abstract art. The paintings are made using a drip and splash paint technique. The aim is for them to be pleasing on the eye with different colours and shading to match all tastes or style of décor.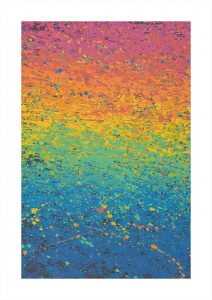 New beginnings
In March 2020, Chris was at home without a great deal to do due to the pandemic and had the idea of painting to keep him occupied and so Splosh Painting began! Though he had no background of painting apart from appreciating good art, he took to it quickly and painted numerous pieces on canvas over the summer and winter. He has since had the pictures professionally photographed and prints of his work produced. These will now be available to purchase at Promart and you can see more of Chris's artwork on Instagram.
"Before lockdown if someone had said I would be selling paintings I wouldn't have believed them! I didn't think I would become a Picasso or anything, but I did 25 prints over the first few months and that's when I really thought about selling them, I call them action abstract art, they are the sort of prints which fit perfectly in hotels or buildings and bring a bit of light and colour to surroundings."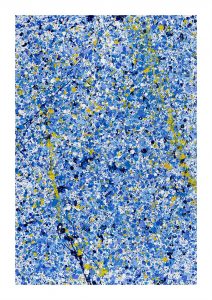 Why PromArt?
"Prom art is my first venture into selling my art. I was very disappointed when it was cancelled at the end of last year. My first PromArt in May was a great day, the weather was fantastic. My sons and wife came to help, and we chatted to many people who all seemed to like my art. I even sold a couple of pieces and so will definitely be returning. There is a great variety of stalls with some very talented people exhibiting. I would recommend it to anyone as a great day out!"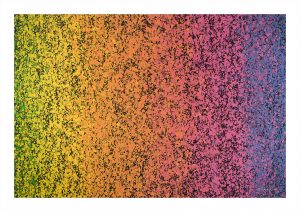 PromArt has returned!
The market is situated along the Victorian Promenade in Grange-Over-Sands, Cumbria. We have up to 80 stalls of talented artists showcasing their handmade artwork and crafts. You can join us and see our talented artists' work in person on the last Sunday of every month from May until September, between 10am and 4pm. We look forward to seeing you there!

Become a trader at Prom Art Market
Prom Art provides artists from the lake district and surrounding area a fantastic platform to promote their work to art lovers at an established event and at a reasonable cost. If you're looking for somewhere to exhibit your artwork, we have the perfect space for you! For more information or to request an application pack please contact us on 0151 363 5411 or at promart@groupegeraud.co.uk.
Keep up to date with the latest news from Prom Art on Instagram and Facebook! You can also find updates on their website.