Celebrating our traders!
Its National Butchers Week this week and to celebrate, we spoke with Gordon from Chelmsley Fish who is one of our longest serving traders in Perry Barr Market, having traded with us for over 33 years. Gordon has great butchery skills and goes above and beyond for his customers.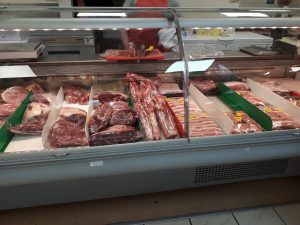 What do you sell/serve?

We sell a whole range of fish and meat – everything you could ask for really. Chicken, turkey, beef, bacon, sausage, steaks, chops, ribs, salmon, hake, sea Bass, sea Bream, mackerel, pollock, red bream and more!
How long have you been trading for and where are you located?

I've been trading now for over 35 years as a butcher and for over 33 years here in Perry Barr Market in the One Stop Shopping Centre.
Why did you start trading independently?
It stemmed from my drive and ambition to work for myself. I saw an opportunity to open up a unit as there wasn't another butcher in here at the time. I've been able to build the business up from the ground up which I'm really proud of.
What's your favourite thing about trading in the markets?
Our customers – I've built up a loyal customer base over the years. Knowing my products and my customers well helps me to predict what stock levels I'll need each week. I never over order which helps me to reduce waste.
Why did you choose to join our market?
The market was quite new at the time and there wasn't another trader like me so signing up for a unit felt like the right thing to do.
What advice would you give to a new trader starting at the market or thinking about joining us at the market?
Research your product to make sure it would sell. Make sure to advertise your unit and your product through word of mouth, leaflets and online. It could help to give out free samples to do some market research. Keep on top of your business, always push yourself to work hard. Don't wait for people to come to you – go to them!
What is your current best seller(s) and why?

Chicken and fish sell extremely well, especially the hake, salmon and red bream. They appeal to the masses and are really good quality meats and fish.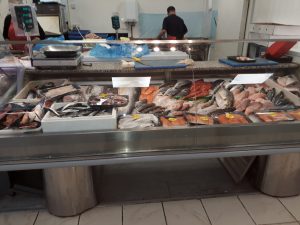 What sets your product or service apart and why should people come to you?

I have a lot of experience and sell top quality products and can provide both fresh and frozen meat depending on what the customer would prefer. I take pride in my butchery skill – everything is done for you and I take requests on size, parts and amount of meat according to customer preference.
If you would like more information about our markets or would like to be a trader like Gordon, get in touch with us on trader@groupegeraud.co.uk.