It's Independent Retailer Month, and we're celebrating our traders!
This week, we spoke to one of our traders from Sutton Coldfield Market. Sutton Barbers have been trading at Sutton Coldfield for 3 years, and have recently moved to the front of the market into a larger unit.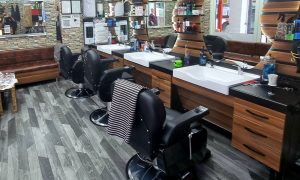 What do you trade in and how long have you been trading?
I have been at the market for 3 years, and I own a Turkish Barbers. I do haircuts, wet shaves, beard trims, hot towels and waxing.
What do you think of the market? What's your experience been like so far?
The market has lower rents rates and shorter licenses than other shops offer – which helps a small business like mine to grow. The market is always clean and tidy, and very welcoming – even with all of the Covid regulations in place. I get on really well with the other traders in the market too, they're very friendly. 
This year's obviously a bit different because of Covid-19 restrictions. How have you adapted?
It's been tough as a Barbers – having to completely shut down during lockdown. I lost a lot of customers on my return, but I'm hoping to rebuild my business. Thanks to the back to work grant from the government, I have been able to move my business to the front of the market. Onwards and upwards I say!
What's your current bestseller?
Haircuts
What products are you including in your new range?
Styling products, which clients will be able to buy from Sutton Barbers
What do you think makes a market worth a visit?
A good haircut!
Why do you think people should visit Sutton Market?
We have some amazing retailers here including a fantastic Barbers!!
What are your plans for the rest of 2021 and beyond?
To keep growing my business and gaining more clients
Start your trader journey now!
If you have an independent business that you're looking to grow too, get in touch with us at trader@groupegeraud.co.uk. We have the perfect space for you! You can find out more information about Independent Retailer month here.