Prescot Artisan Market has returned! Each month in the heart of Prescot, you can find our wonderful traders both inside Prescot Shopping Centre and outside on Eccleston Street. From cheese to jam, handmade jewellery to candles and more, there is something for everyone at Prescot Artisan Market.
Come and visit us on the first Saturday of every month from 9am and enjoy free parking and free entry and enjoy all that Prescot has to offer.
Food & Drink
Alchemic Kitchen – sell delicious preserves
Alison Appleton –  sell speciality tea and teaware
Cakes and Flours – find sweet treats including cake slices, cupcakes, brownies, blondies, salted caramel sauce jars
County Cheese – a favourite with cheese and biscuit lovers!
People's Produce – Selling the best in season produce
Craft
Bittersweet – Costume jewellery
Bathtastics – Handmade bathbombs and soaps
Bill Chesser Wood Turner – Wood Products
Bumble & Eden – Vegan Friendly Soy wax candles & melts
Cary's Creations – Handmade Cards
Cushty Kit – Cushions
Graham's Woodworking – Handmade Bespoke Pens & Woodturning Items
Janice's Craft Store – Christmas decorations and gifts
Mike's Wood Toys & Puzzles – Wooden Toys & name plates
Mike Greatbanks Art – Paintings, prints, fridge magnets, keyrings etc with images of paintings
Off the Hook – Crochet Items
Pam's Magical Makes – Hand painted items, decorative hearts, diaries, up cycled bags, masks box frames
Queen Bee Gems – Handmade Jewellery
Quilts by Steph – Quilts
Sandra Hepworth Textile Artist – Original print, masks and glass
Scents by Sam – F M Products
Tokens of Love and Hope – Wood craft, upcycle bottles, wreaths
Services
Blind Options
The Heel Bar
Forge Market Shaving & Barbers
Chris Thayne
Forge Podiatry Clinic
D+L Wonderwalls & Bathrooms
Shades Blinds
CWM Home Improvements Ltd
Quicksew
Glasgow Loft Ladders
Heleanas
Sarah Puetrolergro
MLR Leisure Ltd
The Spectacle Maker Ltd
Style Boutique 99
City Timber Supplies ltd
Prescot Shopping Centre
And outside on Eccleston Street
Prescot
Merseyside
L34 5GA
First Saturday of the month:
9am – 4.00pm
Prescot Shopping Centre
And outside on Eccleston Street
Prescot
Merseyside
L34 5GA
First saturday of the month:
10am – 5.00pm
We believe a market is more than just a place to shop – it's about community and a place to meet friends, chat and reconnect. A place to experience new things together and to have fun. A place where you can find events that celebrate who we are as a nation and what we do.
[DP_Grid_View_Event dem_post_per_page="3" dem_event_view_style="style3" dem_show_pagination="off" dem_show_featured_image="on" dem_show_upcoming_events="on" dem_show_past_events="off"]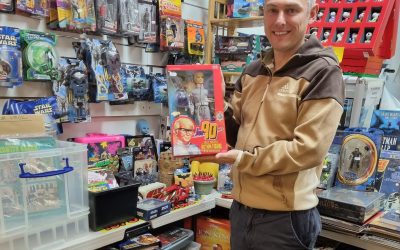 Celebrating our local markets! From Friday 13th May to Sunday 5th June, we are taking part in Love Your Local Market and to celebrate we're speaking with traders from across the UK. We caught up with Ricki Guy who trades as Rewind Vintage Toys to find out more about...
read more
If all this sounds exciting and you want our future to be part of your future, complete the details below and we'll be in touch shortly!