Prescot Artisan Market Jewellery
Prescot Artisan Market operates with a mixture of tabletop and gazebo traders on the first Saturday of every month. We're located at Prescot Shopping Centre along Eccleston Street, and we're open from 9am until 4pm. Our traders offer a wide range of arts, crafts and regional delicacies! From cheese to jam, handmade jewellery to candles and beyond – there is something for everyone here! Keep up to date with the latest news from Prescot Artisan Market on Instagram and Facebook! Today we're looking at some of our traders who specialise in making jewellery.
Bitter Sweet
Lydia has been making jewellery for a year, and she creates earrings and necklaces in various bright designs. She loves wearing jewellery and wanted to give it a go herself during lockdown. As a result of this, Lydia set up her own website and started attending markets like Prescot Artisan Market. Follow Lydia's journey on Instagram and check our Bitter Sweet's website here.
"Prescot Artisan has been a great opportunity for me to meet people on the high street. The market has a real local feel and is bringing more footfall to the area."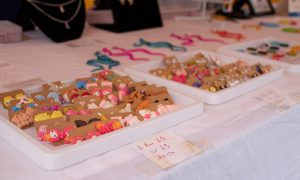 Queen Bee Gems
Denise has been making jewellery with genuine gems and Swarovski crystals for over 8 years. She was inspired by her mum to give it a go. Denise enjoys working with natural gems, her favourite being amethyst as it is her birthstone and her favourite colour! After being introduced to the market by another trader, Denise has since been trading with us at Prescot Artisan Market for 7 years.
"I love meeting new people and it's a nice social event."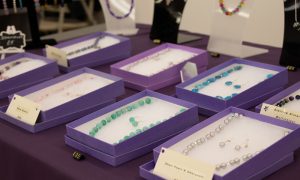 Northern Star Jewellery
Debbie creates handmade jewellery using gemstones and crystals. She sells her jewellery at Prescot Artisan Market, as well as various other events and pop-ups. Debbie has been making jewellery such as earrings, necklaces, and bracelets for over 15 years and has been trading with us for 18 months. You can follow Debbie's work on Instagram.
"Prescot Artisan Market has helped me build up a customer base in an area local to me."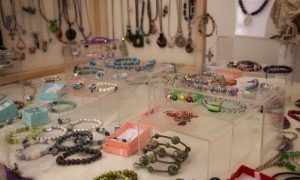 Trade with us!
If you're interested in becoming a trader, get in touch with us today at trader@groupegeraud.co.uk. Alternatively, you can submit an enquiry on our contact page – we'd love to hear from you!