Products for your home
Prescot Artisan Market operates with a mixture of tabletop and gazebo traders on the first Saturday of every month. You can find us and our traders inside Prescot Shopping Centre and along Eccleston Street. This Saturday, we're open from 9am until 4pm and offer a wide range of art, crafts and regional delicacies sold by our wonderful traders! You can keep up to date with the latest news from Prescot Artisan Market on Instagram and Facebook! Today we're looking at some of our traders who specialise in home decor and wellness products.
The Slippery Cauldron Soap Company Ltd – Stef
Stef makes all natural handmade soaps and body products. They are chemical free and made with essential oils and botanicals. Her business started as a lockdown hobby when the shelves were bare and there was a shortage of soap in the shops. Stef began making soap for herself and family and friends and it snowballed into a business for her due to demand. You can follow Stef on Instagram and Facebook.
"The Artisan Market is perfect for me as it's on a Saturday on the high street within all the hustle and bustle of the town centre."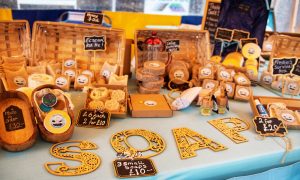 Salts and Secrets – Katie
Katie sells salts, crystals, dream catchers and jewellery on her stall at Prescot Artisan Market. All of her products promote self-care and positivity – all things Katie is passionate about. As a reiki healer and holistic therapist, she promotes finding peace within and alternative therapies, and this really shines through her products. Teamed with her little helper Mollie, Katie attends Prescot Artisan Market each month. Find more of her work on Instagram.
"Prescot is a real up and coming area. The Market has been great in getting people to the high street and it's lovely to be a part of it."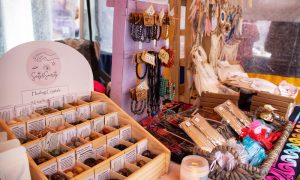 Bumble & Eden – Christine
Christine makes homemade vegan friendly soy candles and wax melts. After years of buying store bought candles, Christine wanted to branch out into natural candles and was shocked at how expensive they were. She decided to give it a go herself and started making them for herself and her friends and family. Christine has been attending Prescot Artisan Market for 2 years now.
"It's a hobby that got out of control and now I've got a business out of it! The stall fees are reasonable and it has helped me grow a regular customer base. There's such a nice atmosphere it feels like a social event not just a market!"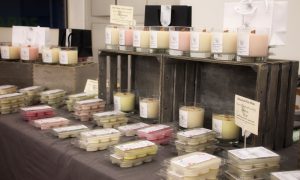 Pam's Magical Makes – Pam
Pam sells decorative items featuring her own artwork using acrylic paints in the one stroke painting style. She has been creating her products for 2 years and was previously a face painter for 30 years. This has given her the technique and experience to create beautiful artwork on her products. Pam has always been artistic and enjoys finding something plain and painting on it to give it her personal touch. As well as the products she has on offer, she also provides a personalised service allowing customers to request specific wording customisation.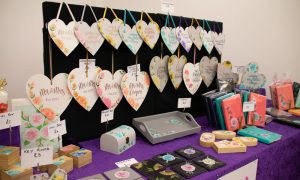 Trade with us!
If you're interested in becoming a trader, we'd love to hear from you! Get in touch with us today at trader@groupegeraud.co.uk. Alternatively, you can submit an enquiry on our contact page.