The 1st of November is World Vegan Day, and today we're getting to know more about one of our Vegan Traders. Christine trades with us as Bumble & Eden at Prescot Artisan Market. She sells an amazing range of homemade vegan candles, wax melts and soaps. We caught up with her to find out more about her products, and why producing Vegan friendly candles is so important.
Tell us about yourself!
I started making candles about 4 years ago. At the time I just wanted to make candles for myself, I had no plans for it being a business. After doing some research into what I was burning and the ethics of the ingredients, I decided I wanted something better. There were other options out there, but they were so expensive. I sourced the raw materials and started making my own! After months of testing, I started making different scents and giving them to friends and family for honest feedback. Following this, people expressed how they wanted to buy them, and before I knew it – Bumble & Eden was born!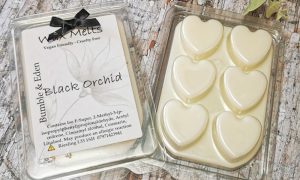 The most important thing to me is making a quality product without the expensive price tag. I only ever use the quality ingredients, I never compromise on that.

What inspired you to make Vegan friendly products?
I have been a vegetarian since 1992 and in recent years I have become vegan. I just don't think an animal should suffer for us to have something as simple as a candle in our homes.

Can you tell us about your products and what makes them Vegan?
I make sure every product I use in the making of my candles is vegan friendly and cruelty free – checked and verified by our suppliers. We are a cruelty free brand and that's very important to me. I never use packaging that cannot be recycled and where possible we strive to use packaging that is 100% biodegradable. We aim to produce as little waste as possible, and encourage customers to up-cycle the containers we use to make our candles in. The glasses from our candles make excellent drinking glasses after your candle is finished, and our amber jars make great little storage pots!
What's your current bestseller?
I have just started a new range of candles in amber jars which are quite popular at the moment. The Christmas range is popular at this time of year too!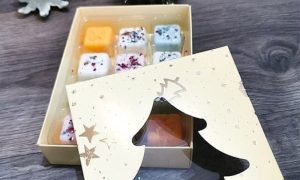 What is your favourite product?
I love my classic glass candles. They are what I started with, and they also seem very popular with my customers. They now come with a dust cover made from seed paper. I have used a local artisan to make these for me, they are made from recycled paper and contain seeds from 15 British wildflowers. I thought it was a nice addition to the candle and a wonderful way to help our bees. They will debut at Prescot Artisan Market in November.
What's your experience of the market been like so far?
Friendly! I have made some wonderful friends with fellow Artisans and have lots of regular customers. There is always a friendly atmosphere and I love it when people stop by your stall even if it's just for a chat. I would encourage people to come and look and speak with the makers.
Why do you think people should visit our market?
I think a lot of people are moving away from the big online and big high street stores. There seems to be movement in shopping local and supporting local businesses. With Christmas coming up, Artisan Markets are a great way of finding quality gifts.
How can people find you?
People can find my products on my website – bumbleandeden.co.uk. They can also follow me on Facebook and Instagram.
Trade with us!
Don't forget, our Prescot Artisan Market operates on the first Saturday of every month inside Prescot Shopping Centre and outside along Eccleston Street! With dozens of traders selling their products at the market, there's something for everyone! If you would like to join us then get in touch with us on trader@groupegeraud.co.uk for more information.