As we continue our second week of our Love Your Local Market celebrations, we caught up with another one of our traders! We spoke with Geoff Paterson from Jen's Haby & Fancy Dress Shop. Geoff has been trading at Parkhead Market since 1989, and throughout these 32 years he has seen a lot of changes happen at the market!
I'm one of three traders who have been with the market since day one. The shop used to be run by my parents and I would come down after school aged 16 to help out. After they retired, I took over and have been in charge since.
What do you sell?
We sell a mixture of haberdashery items – buttons, zips, threads, wool, fabric, dyes etc. We also sell good quality fancy dress items such as costumes, wigs, face paints and a whole range of accessories. The shop is one of the very few remaining dedicated costume shops in Glasgow. We are focusing on Halloween at this point in the year with traditional scary costumes being our best seller.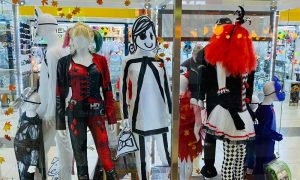 What has been the key to your success?
When I first started, we had an average sale of just £1 but we had a big customer count. The key to success has been to keep finding new and exciting items to sell that will keep the customers coming back, particularly when the internet Is so popular. I really enjoy stocking a new product and then seeing a customer wanting to buy it. Having the correct stock in is our main selling point, I keep track of trends and what people will be looking for in advance to get the orders in. For Halloween, we put our stock orders in around 4-6 months in advance to make sure it arrives in time, and we have the right products to sell. 
What do you think of Parkhead Market?
Parkhead Market has been good to me over the years, hence why I have traded with them for so long. I've always had a good relationship with them. 
What are your plans for the rest of 2021 and beyond?
COVID-19 has presented its challenges, especially facing all the downturn and surge towards internet buying. Providing a good shopping experience is the ongoing battle, and a challenge I am up to!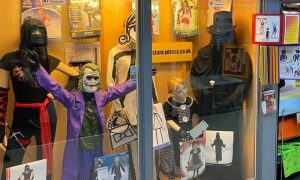 How to get in touch
If you're trying to find the perfect Halloween costume or any other fancy dress, you can browse Jen's Haby & Fancy Dress Shop's products on their website or better still, see their full range in person (located inside the main shopping centre within Market Village at Parkhead Market). You can also call them on 0141 550 4828. For the latest updates, find them on Facebook.
Become a Trader
Could you become Parkhead Market's next trader? If so, get in touch with us at trader@groupegeraud.co.uk! You can find out more information about the two week Love Your Market celebration here. You can also take a look at how all of our markets are taking part here.