Celebrating our traders!
It's National Storytelling Week in the UK this week, so we are bringing you stories from some of our traders from across the UK! Today we spoke with Limara who trades as Personalised by LM at Washington Market. Limara is one of our newest traders, and during the last 7 months she has built a fantastic customer base. She has also gained a reputation for excellent service.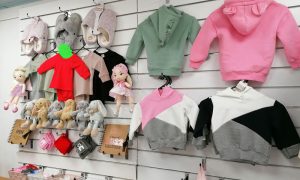 What do you sell/serve?

I sell personalised clothing and gifts. They are specially designed for your special occasions.
How long have you been trading for and where are you located?

I've traded for 3 years on the internet, and 7 months in the Washington Market. People can find my unit opposite computer clinic (unit 67).
Why did you start trading independently?
I was a recruitment consultant for 5 years and held down other jobs at the same time. I had a successful business hiring out photo booths, amongst other things. I enjoyed working for myself.
What's your favourite thing about trading in the markets?
Personally, I like the environment. Working from home can be lonely at times so it's nice having other traders to talk to who are going through the same things. There's lots of variety and characters to meet in a market. Work life balance is important to me and trading at the market gives me independence, the ability to be my own boss, sales experience and flexibility.
Why did you choose to join our market?
As a customer previously, I saw the opportunities available and thought that I could see myself doing well here with my own business.
Why would you recommend a new trader to come and join us at the market?

No two days are the same. There's lots of different people to talk to within the centre. You get your regular customers, and the other traders pass customers on to you as well.
What advice would you give to a new trader starting at the market or thinking about joining us at the market?
When you first start out, be cautious. Don't over-extend yourself, you can always expand later.
What is your current best seller(s) and why?

Definitely Pyjamas! Currently our Birthday PJs are doing really well and last year the Christmas PJs did brilliantly. The upcoming events e.g., Mother's Day, valentines etc. bring lots of new business for me as well.
Do you have a new product to promote?
I am investing in Sublimation equipment to offer photographic prints, T-shirts cups, etc.  and this will really open up what I can offer.
What sets your product or service apart and why should people come to you?

I'm chatty, warm, friendly and people say my prices are reasonable.
How can people find you beyond the markets?
People can find me on Facebook and Instagram, or visit my website!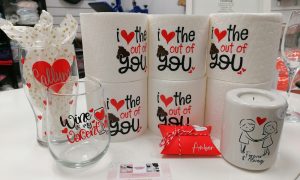 Become a trader with us!
Keep an eye out for other stories for National Storytelling Week coming up! If you would like more information about our markets or would like to be a trader like Limara, get in touch with us on trader@groupegeraud.co.uk.