It's Independent Retailer Month, a time to encourage shopping locally and to celebrate independent retailers!
This week, we spoke to one of our traders from Northfield Market. Francoise & Jonathan Krull of The Hand-Drawn Stores work with a range of mediums – from painting to digital art, to jewellery making. You can follow the The Hand-Drawn Stores journey on Instagram, Facebook and Twitter.
What do you trade in and how long have you been trading?
Paintings, Hand-made jewellery, gifts & accessories. We've been trading via a pop-up shop since 2018, and permanently in Northfield Market since February of 2020.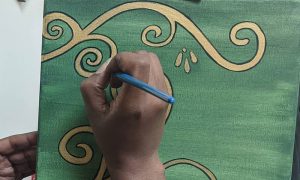 This year's obviously a bit different because of Covid-19 restrictions. How have you adapted?
We kept the stall closed until we were both fully vaccinated. In the meantime, we opened an online store on Depop. Fran also spent the last year editing and publishing her second fantasy novel: Azeron Rites & Rebellion.
What's your current bestseller?
Wire-wrapped semi-precious stone pendants, but polymer clay clown head necklaces are also quite popular!
What products are you including in your new range?
Fran spent lockdown branching out into new art forms, especially resin jewellery, so we now have plenty of that on offer. Jonathan's been working on new paracord designs as well.
What are the benefits of your products?
Art brings people joy, and all of our products are 100% handmade by us, so they're unique and customisable.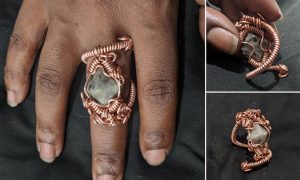 Trading at Northfield Market
What do you think of the market? What's your experience been like so far?
Outside of 'popping up' we were only open in the market for about a month before the first lockdown started, and have been closed since due to Fran being clinically vulnerable. We really enjoyed our time there and are thrilled to finally be reopening.
What do you think makes a market worth a visit?
Markets offer a great opportunity to find unique products by a variety of independent stall holders that you just can't find anywhere else. You know you're supporting small, local businesses in your community when you shop in a market.
Why do you think people should visit Northfield Market?
Northfield High Street is one of the most vibrant high streets in all of Birmingham. Northfield Market is a welcoming community that always smells great from all the delicious food on offer, and has a wide variety of stall holders.
What are your plans for the rest of 2021 and beyond?
Reopening our stall, and restarting Fran's ArtNight painting classes in the autumn. We'll also be promoting Fran's fantasy books, so signed copies will be on offer right from our stall.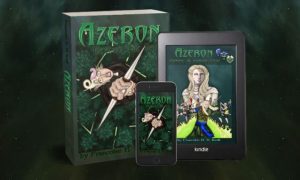 Start your trader journey now!
If you have an independent business that you're looking to grow, get in touch with us at trader@groupegeraud.co.uk. We look forward to hearing from you! You can find out more information about Independent Retailer month here.