It's British Food Fortnight!
British Food Fortnight 2021 takes place 18th September to 3rd October 2021. This is the 20th year of the celebration, and we're celebrating some of our traders who sell diverse and delicious food here in the UK. Today, we speak to Emma & Mike Plumpton who run Plump Cakes at Cwmbran Market. Plump Cakes sell a variety of delicious cakes, pastries and desserts.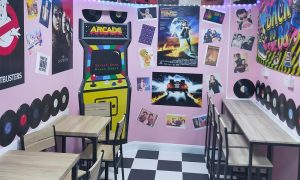 What are your current bestsellers?
Ice Slices
Cupcakes
Old School Sponge
Biscoff Cheesecake
Do you have a new product to promote?
We are opening a new tearoom on the 18th of September, and we will be selling our new chocolate cake flowerpots. We loved the idea of them and have not seen these anywhere else!
What sets your product or service apart? 
We put our hearts into everything we make. Our products are not uniform – they're rustic! We use classic, natural products that your grandma would have used in the kitchen baking.
Both myself and Mike love the 80's and we usually have 80's music on in the shop or at home while baking, so when deciding on decor it seemed the obvious thing for us. We both think it was the best era for music and movies. It will also give others the opportunity to reminisce and those who don't know much of the 80's a chance to discover it.
How long have you been trading for?
The business started in 2016 from home and has progressed over time. We first opened up in Cwmbran Market on the 19th of September 2020. On the 18th of September 2021 we are opened our brand new tea room to celebrate out 1st birthday in the Market!
Why did you start trading independently?
Mike used to bake at home and made amiyl cakes for birthdays and other events. Then he started his own handyman business so Emma took over. Emma enjoyed it so much that she took the baking further and wanted other people to enjoy the cakes. Emma took an evening class for fondant creations and after completing this, Plump Cakes was born!
Where are you located?
We are located inside Cwmbran Market opposite the Ye Old Sweet Shop.
What's your favourite thing about trading in the markets?
We love the independence of owning our own business, chatting to customers and other traders.
How can people find you beyond the markets?
You can find us on Facebook, have a look at our website, or give us a call on 07960 761 501.
Become a Trader
Could you be Cwmbran Market's next trader? If so, get in touch with us at trader@groupegeraud.co.uk! You can find out more information about British Food Fortnight here.