It's British Food Fortnight!
British Food Fortnight 2021 takes place 18th September to 3rd October 2021. This is the 20th year of the celebration, and we're celebrating some of our traders who sell diverse and delicious food here in the UK. We had a chat with Brian Hickey, who runs Daughter's Cafe at Parkhead Market. Daughter's Cafe serves traditional home cooked meals, breakfasts, cold drinks, fresh ground coffees and delicious ice creams and desserts.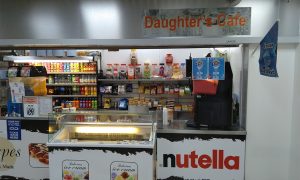 What is your current best seller?
Macaroni
Breakfasts (sausage bacon eggs black pudding beans & tattie scones)
Steak pie
Chips (with gravy or curry sauce)
Toasties
Do you have a new product to promote?
Fanta Frozen ice drinks, quality branded Fanta slushies.
What sets your product or service apart? 
We have very high standards of service and cleanliness. We only use the best ingredients and all our hot dishes are homemade on the premises daily. Our prices are competitive and our portions keep you full for a full days shopping in the centre! Our staff are well trained too, friendly and we pride ourselves on knowing our regulars and giving a warm welcome to new faces. We also have a very open seating area which allows easy access for wheelchairs and prams so we are very accessible, there are a lot of older and disabled customers or young families with pushchairs that can come to us and sit in comfort while they eat.
How long have you been trading for?
We have traded in Market Village for 9 years, and we previously owned a sandwich bar in Glasgow.
Why did you start trading independently?
I wanted to be self employed so that I was my own boss and establish a family business. Being the owner means you can run things the way you want to and make sure the business gets run the way it should be.
Where are you located?
We are located at the back of the Market Village Centre in Parkhead, as the busiest café in the centre we help to bring customers in through the doors and drive footfall for all the other retailers round about us. Plus we get trade off the shops that are round us too. We also have an extended seating area opposite the main café we took on a few years ago, we have spent years building up a loyal customer base and we eventually outgrew the original café size so we took on more space to cater for the higher numbers we were serving.
What's your favourite thing about trading in the markets?
I like the independence of being my own boss, we open 7 days a week and I work long shifts every day but there's still flexibility for me to do other things and fit a family life in at the same time. The main reason for any business is to make money too and nothing beats the feeling of hitting, or exceeding, my sales targets when we have a good week.
How can people find you beyond the markets?
We don't have social media or offer deliveries or sell via ubereats / just eat etc. All the customers we have we have built over time through good food and affordable prices. Our new customers find us through word of mouth and recommendations from family and friends. Our main aim is to bring new people into the market to benefit us and all the other retailers.
Become a Trader
Could you be Parkhead Market's next trader? If so, get in touch with us at trader@groupegeraud.co.uk! You can find out more information about British Food Fortnight here.