It's British Food Fortnight!
British Food Fortnight 2021 takes place 18th September to 3rd October 2021. This is the 20th year of the celebration, and we're celebrating some of our traders who sell diverse and delicious food here in the UK. Today, we speak to Jan Swanson, who owns Alice & Elsie's Tearooms at Washington Market. Alice & Elsie's Tearooms serve all good homemade foods such as pie and mash, roast dinners, soups, hot / cold sandwiches, stir fry, Indian curry and a selection of cakes.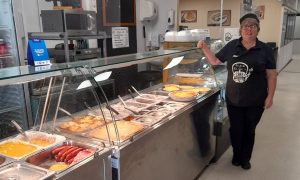 What is your current best seller?
Our top 3 best sellers are:
Homemade Mince & Dumplings with veg and mash
Chicken Curry & Rice and Chips
Homemade Corned Beef Pie
Do you have a new product to promote?
Our promotions vary from week to week. It depends on the weather, time of year, and if any events are happening! This week, we have been promoting chicken thighs in white wine sauce with rice and chips. And for dessert – chocolate cream cake in half of the shell of an Easter egg. We wanted to create something interesting and give our customers even more choice. It's good to keep the menu fresh, but not to lose sight of what our loyal customers want.
What sets your product or service apart? 
First and foremost our friendly staff are a vital asset to the business. Also, all of our produce is fresh – nothing is frozen and warmed up. Everything is homemade, and this is something we're really proud of!
How long have you been trading for?
Initially, we opened as a Fish & Chip shop in 2007. We moved to a larger unit with its own seating area to establish the tearooms in 2016.
Why did you start trading independently?
From a very early age I've loved cooking and I've dreamt of being my own boss in my own café. The food I produce is made with passion, and I set myself and my team very high standards – resulting in gaining a level 5 hygiene certificate from Health & Safety.
Where are you located in Washington Market?
We are situated towards the rear of the market, opposite one of the main entrances – which is also next to the customers taxi rank.
What's your favourite thing about trading at the market?
It's full of small businesses working together! It's great to see that the other traders all have the same goals as myself. We all want to make the market and our businesses a success. The community spirit is brilliant, we love getting involved in market events. We print t-shirts with the Love Your Local Market logo on for traders, dress up at Halloween, take part in McMillan Coffee mornings and Easter egg competitions. We also do tombola and other activities for our local charity – Cash for Kids in conjunction with Metro Radio.
How can people find you beyond the markets?
You can find us on Facebook. We get a lot of customers coming in from The Galleries Shopping Centre, and we are in an excellent location right next to the Taxi Rank. Word of mouth in the food industry is the best form of advertising!
Become a Trader
Could you be Washington Market's next trader? If so, get in touch with us at trader@groupegeraud.co.uk! You can find out more information about British Food Fortnight here.