It's Independent Retailer Month, a time to encourage shopping locally and to celebrate independent retailers!
This week, we spoke to one of our traders from Parkhead Market in Glasgow. The Wise Monkey have been trading directly from Market Village since October 2020 after being solely online. They sell all kinds of home interior items, ranging from furniture to unique quirky items! You can follow The Wise Monkey's journey on Facebook and Instagram, and you can visit their website here.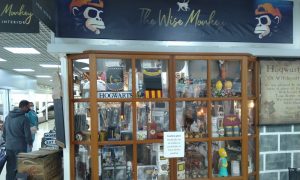 What do you think of Parkhead Market? What has your experience been like so far?
The customers have been supportive and continue to get excited by our products which makes it an enjoyable experience!
This year's obviously a bit different because of Covid-19 restrictions. How have you adapted?
Having opened mid-pandemic, the restrictions are all we've ever known – but giving ourselves a base like Market Village has ensured customers can follow the journey from online to store.
What's your current bestseller?
Our best sellers are our selection of monkeys – from three wise monkeys to a cheeky monkey giving an inappropriate gesture. Customers can't get enough of our monkeys!
What products are you including in your new range?
We are expanding our monkey selection weekly! You can't be called 'The Wise Monkey' without having a good range of our namesake on offer!
What do you think makes a market worth a visit?
Parkhead Market offers a good mix of traders stocking quality products at reasonable prices. We have everything – places to fill your belly, places to buy beds, key cutters, fancy dress, home furnishing and flowers to add the finishing touch to your wedding.
What are your plans for the rest of 2021 and beyond?
We strive to expand our business, and get more and more customers into market village. We want to become the 'go to place' for gifts for loved ones as well as for yourself.
Become a Trader
Could you be Parkhead Market's next trader? If so, get in touch with us at trader@groupegeraud.co.uk! You can find out more information about Independent Retailer month here.