Even though England's second lockdown is set to end at the start of December it still leaves Christmas feeling a bit uncertain all over the UK. We're not sure how we're going to be able to celebrate or when, but that doesn't mean we're not going to try! Our traders are selling festive treats and hosting Coronavirus-safe seasonal events up and down the country helping you prepare for a socially distanced Christmas.
Here are some ideas for how to create your own socially distanced, Covid-safe Christmas, whatever the household mixing rules will are December.
Take your decorations outdoors
Many of us really need cheering up and so the decorations are going up ASAP. You might have even got the fairy lights down from the loft already…
2020 has been difficult and traumatic for many, but it's also been full of examples of people helping each other and making the best of things. You can do your bit for your street by lighting up the outside of your house and spreading some seasonal cheer to your neighbours and friends.
Not got an outdoor space of your own? There are still plenty of Christmas lights getting switched on by our local authorities! We particularly love the ones in Alnwick town centre and the Alnwick Garden Christmas Light Trail light trail this year. See our article on Christmas days out in Alnwick for more information.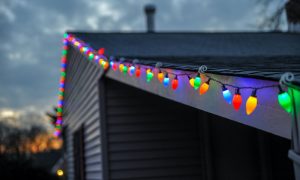 Step in for Santa
Going from house to house and touching a lot of different surfaces is definitely not a good idea this year. The children in your family or circle of friends are probably wondering how they'll get their gifts from Father Christmas! Get creative and leave gifts in surprising places at surprising times. You could even write a letter 'from Santa' explaining why he can't visit this year and why his elves are doing deliveries on his behalf.
You can deliver gifts, wine, chocolate, and baked goods to family and friends who don't believe in Santa anymore too! They'll definitely appreciate it.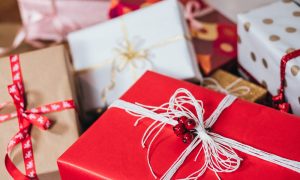 Give more than you receive
Spreading some joy is one of the best ways to spend Christmas, whatever the circumstances. This year lots of people need extra help and donations are much more in demand. Local Facebook groups are a great way to find charities and organisations collecting items for people in need. You could find out what they're most in need of and add it to your Christmas shopping list.
This Friday is Christmas Jumper Day! This tradition started off as a way of raising money for Save the Children. The idea is to wear a silly christmas jumper and donate £2 to the charity. Find out more about more information about how you can take part here!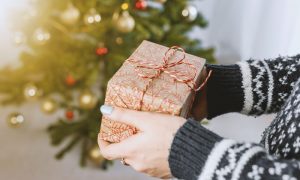 Video your gift unwrapping
One of the best things about Christmas is watching people open whatever you've bought or made for them (whether it's sincerely thoughtful or a joke gift). If we can't be together with people in person to give and receive gifts, we can send each other videos, live stream, or video call. It's a very 2020 way to do Christmas, but it's the best we've got for now!
There are lots of ways to make Christmas special this year. We can't bank on being with the people we're closest to face to face but we can still spread a lot of Christmas cheer if we get creative. The main thing is being together as much as we can, whether that's on video or on the doorstep.